New! Amazon has some one-stop shopping for the top brands in Quadcopters at their

Amazon Drone Store

This is a great way to plan for your holiday season gift list - or, treat yourself to the quadcopter you've been wanting! UPDATE: DJI Models have just been lowered in price by a significant amount - $150 to $200 on some models. Check the link above or click here and then look at various models.
DroneFlyers.com Quadcopter Discussion Forums
Featured Threads

Here is a deal that can't be beat!
https://deals.ilounge.com/sales/dji-phantom-fc40-the-world-s-1-rated-drone-free-shipping
It shows $499 and mentions a code on that page, but use THIS CODE (stack20-NF3G2P) instead, and you get 20% off the $499 - $300 total.
I tried it myself to make certain - see enclosed screen shot!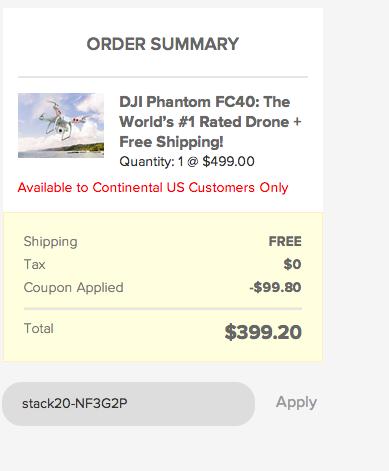 These are the forums where we discuss quadcopters and multirotors in all their various brands and configurations.

This section will contain Press Releases, New Product Announcements, Informal forums and more...